Entertainment
Planning an event? Looking to wow your guests/clients with something they've never ever seen before? Get a Dollar Artist.
Imagine your guests lined up at a table, entertained as they watch the dollar artist create animals, birds, dragons, swans, peacocks, over a hundred different models, all out of real money. And then he gives it to them for free as wonderful souvenir of your event.
For parties,gatherings, weddings, adults, children, anniversaries, corporate affairs, events of any kind... you'll create a memorable time when your guests receive these truly amazing works of art, made just for them.
Price in the NJ/CT/PA/NYC metro area is based on hourly rate. Rest of the country and overseas is based on a daily rate plus travel and hotel accomodations.
For more info on how to create astonishing memories for your next event, click to download the brochure:
Brochure (pdf format)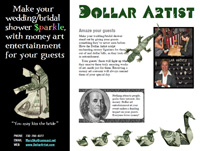 Wedding/bridal shower brochure (pdf format)